Summary
The rate of positive tests for cannabis usage has grown 35% over the last 9 years in states where marijuana is still illegal, but 71% in states where it is legal. This presents a huge challenge for industrial companies that are staffing in states that have legalized pot.
Note to HR: Inhale deeply…hold your breath…and hope the best applicants pass their drug test.
U.S. employers are on a collision course with demographic and social trends that are converging to drive down labor availability. Widespread legalization of marijuana has increased the number of people who use it, and with that, the number of prospective employees failing drug tests has skyrocketed. Staffing in these conditions is quite a challenge.
Reaching Higher and Higher
Quest Diagnostics, which conducts over 10 million workplace drug screens annually, says the rate of positive tests for cannabis usage has increased 35% in the past 9 years in states where marijuana is illegal, but grew 71% in states where it is legal. Marijuana is the most commonly detected substance across the workforce, including laborers working in safety-sensitive jobs.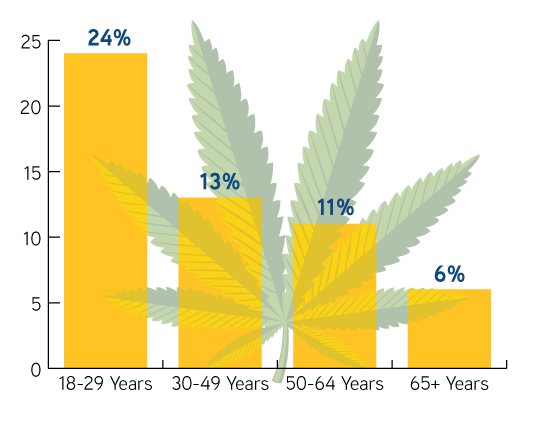 Drug test failures are increasing, and the use of marijuana is highest among people 18-29 years old…the age cohort from which most employers recruit heavily for new workers. With nearly 25% of people in this age group smoking marijuana (according to Gallup), it challenges employers who still screen applicants for cannabis.
To test or not to test?
In challenging labor markets, many employers have stopped pre-employment testing for marijuana to meet staffing needs. But the risks can be significant. The Journal of the American Medical Association published a study demonstrating individuals who test positive for marijuana have 55% more industrial accidents, 85% more injuries and 75% more absenteeism.
And even among companies which still test for cannabis, the nagging question is "how much THC means someone is impaired?" Heavy smokers have more residual THC in their systems than light smokers and may test positive long after usage. Just because the THC level is high, doesn't mean the person was high when the test sample was taken.
They took it to court
Legalizing marijuana in a state doesn't mean staffing problems are simplified. Court cases have been brought in Massachusetts for discrimination against employees fired for positive marijuana tests despite having a medical marijuana card. In Michigan, the court ruled an employee using medical marijuana could be fired for failing a drug test, but would still be eligible for unemployment benefits. Nevada passed a law prohibiting denial of employment based on a positive marijuana test. New York City is likely to ban employers from even administering a drug test for cannabis.
But since marijuana is still a Schedule 1 drug under federal law, employers with federal contracts are legally required to administer drug tests to applicants, including for marijuana. This certainly puts them at a disadvantage in the competition for scarce labor resources.
But we need more workers
Pre-pandemic, the latest reports showed the tight labor market wasn't relaxing anytime soon. Labor force participation rates have been bouncing around 63% for the last 8 years. When the Great Recession began in December 2007, the rate was 66%, so there has been a sharp decline in the share of working-age people engaged in the labor market despite the very strong economy.

In a tight labor market, employers must weigh the upside of drug testing (fewer accidents, injuries and absenteeism) against the downside of possibly losing a productive worker. Many companies no longer drug test, or test for only the most problematic drugs such as opioids or meth, as it is becoming extremely difficult to fill open positions. If a job is not tied directly to worker or product safety, tests for cannabis are not performed. Companies in high turnover industries, such as food service, hospitality and construction, have dropped testing altogether.
The Law of Unintended Consequences is on full display in states that caved to the marijuana lobby. These states are raking in tax revenues on cannabis, but at the expense of employers who are caught in the switches regarding drug testing, legal exposure and staffing. The reality is more states are likely to follow, so employers will be left with the headache.
Labor availability and quality is a key component that our Colliers Site Selection Services team layers into every location decision.
Contact us so we can help you unravel all the important components of your next location decision – together.